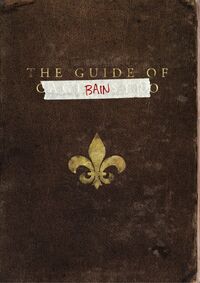 The Guide of Bain is a promotional PDF released as part of PAYDAY 2's Career Criminal Edition, to provide players with a rudimentary manual on the know hows of the game.
It is rumored to be tied to a secret in PAYDAY 2 similar to the PAYDAY Secret ARG.
Disclaimer: The terminology and information featured on this page was copied verbatim from the original document and should be left as is regardless of in-game and/or meta status of such materials.
"The Criminal Net-Work"Edit
A basis for Trust and Safety
Edit
This section discusses the basics of Crime.net, contacts, jobs and the Safe House. Additional subjects like risk levels, stealth, and Pro Jobs are also touched upon, however lightly as Bain often glosses over smaller details in favor of his unusual composing style.
The Clientele
Edit
This section introduces the reader to the four contractors that came with the retail game, each with their own remark by Bain himself on their M.O. or background, their preferred types of jobs and associated paygrade. The following contractors are included in the guide, along with their related notes in brackets:
As always, the hunt for Baldwin continues.
The Pay-Day
Edit
This section provides an explanation of the mechanics of earning XP, offshore account and the Payday. Bain notes GenSec's annoyance at the Payday Gang's deadly efficiency over past years and that they are "getting better at what they do".
"Strategies of the Successful Heist"Edit
Stratagems & Sensibility
Edit
Combat & Ambuscado
Edit
Common senses
Edit
"Tools of the Trade"Edit
Tool-sets
Edit
Defensive plate
Edit
Skills & Proficiencies
Edit
"Appendices"Edit
Charts & Intelligence
Edit
The opposing forces
Edit
Despite what's claimed by the Guide's front cover along with multiple references by Bain throughout the document, this manual has nothing to do with Alessandro Cagliostro and is a completely fictional work.