The Goat Simulator Heist DLC was released on January 14, 2016. It is the twenty-eighth paid DLC pack for PAYDAY 2.
This DLC is a promotion for the video game of the same name, done as a collaboration between Overkill Software and Coffee Stain Studios.
These masks, materials, and patterns are achievement rewards. They can't drop during a PAYDAY and cannot be sold. Instead, they can be returned to your mask stash for free, but any non-achievement or Infamy reward pattern, color, or material as well as the customization fee to put these together will be lost.
All of the masks from The Goat Simulator Heist DLC save for the Goat Goat mask are based on mutators from the video game Goat Simulator.
Goat in 60 Seconds
In the first day of the Goat Simulator heist, secure 6 goats in the escape truck within 1 minute of it arriving. Unlocks the "Scout Goat" mask, "Goat Eye" material and "Giraffe" pattern.
BAAaa...*BANG*...aaAAH
In the Goat Simulator heist, throw a goat in the air, kill one enemy and catch the goat before it lands. Unlocks the "Wet Goat" mask, "Hay" material and "Goat Face" pattern.
Coffee Stain
Complete the Goat Simulator heist on the Death Wish difficulty or above.
Farmer Miserable
In the second day of the Goat Simulator heist, send all goats in separate cages on the OVERKILL difficulty or above. Unlocks the "Slick Goat" mask, "Tongue" material and "Fur" pattern.
The following appeared on January 12, 2016. They were replaced on January 14, 2016.
| | |
| --- | --- |
| | 1... |
| | |
| --- | --- |
| | 2... |
| | |
| --- | --- |
| | 3... |
| | |
| --- | --- |
| | 4... |
| | |
| --- | --- |
| | Zzz... |
The Goat Simulator Heist DLC is the first heist DLC to include a shotgun.
External links
Edit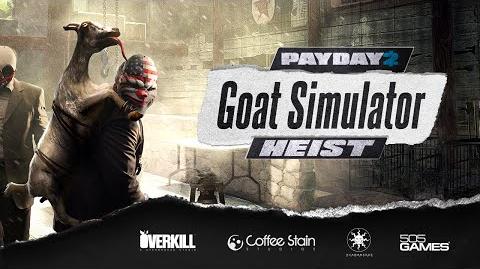 Ad blocker interference detected!
Wikia is a free-to-use site that makes money from advertising. We have a modified experience for viewers using ad blockers

Wikia is not accessible if you've made further modifications. Remove the custom ad blocker rule(s) and the page will load as expected.