Skills are a means of unlocking new equipment, abilities, or basic statistic improvements in PAYDAY 2. They are divided among five skill trees: Mastermind, Enforcer, Technician, Ghost, and Fugitive; often described as classes. Players are free to distribute skill points however they choose across the five skill trees.
The Skills system was overhauled in Update #100, with the five skill trees possessing three "subtrees" each, each with a different role. The content under the "Consoles" tabs (or "PS4 & XBOX ONE" and "PS3 & XBOX 360" tabs) contains information on the old skills system and is kept for reference. An update for PS4 and Xbox One had made the skills nearly identical to the PC version, therefore displaying mostly relevant information to next generation console players.
Skill points
Edit

One skill point is awarded each time the player gains a
Reputation
level, plus an additional 2 points at every level divisible by 10 (meaning that instead of just 1 skill point, 3 skill points will be granted at levels 10, 20, 30, 40, and so on). Thus, once the player reaches the maximum Reputation level of 100, the player will have a total of 120 skill points.
Because the total skill points needed to unlock Basic and Ace for every skill in a single tree totals 132 points (145 on the consoles), it is impossible to Ace every skill in even a single tree (and furthermore, there are five separate trees in total). Because of this, it is advisable to only spend points on specific skills you truly need and want, and to spread skill points over multiple trees if necessary. Planning your build can be done with this skills, perks, and weapon calculator.
Skill tree structure
Edit
Each skill tree has three subtrees, named after their intended role (for example, the Fugitive's Brawler subtree enhances melee combat capability). For each subtree, there are four tiers, the top three unlocked by spending a minimum total number of points in that subtree:
tier 2 is unlocked by spending 1 skill point,
tier 3 by spending 3 skill points,
tier 4 by spending 18.
Tier 4's point requirement can be reduced to 16 by investing an Infamy point in the appropriate tree.
All subtrees have one skill in tiers 1 and 4, and two skills in tiers 2 and 3. Tier 1 skills cost 1 skill point to unlock Basic and three skill points to Ace, tier 2 skills cost two skill points for Basic and four for Ace, tier 3 skills cost 3 for Basic and 6 for Ace, and tier 4 skills 4 for Basic and 8 for Ace.
Skill interactions
Edit
Party bonuses do not stack with the identical bonus coming from other players in the party that have the identical skill (thus it is somewhat sub-optimal for multiple players to get the same party-benefit skills, if you always play with the same team of players). All other bonuses stack, unless stated otherwise, including bonuses from Basic and Aced versions of the skill.
Re-specifying skill trees
Edit
Skills can be withdrawn and skill points returned simply by right-clicking on the skill. Aced skills are withdrawn separately from Basic skills; to fully remove a skill that has been Aced, one will have to right-click on the skill twice. Skills cannot be withdrawn if the skill points invested in them allow skills unlocked above them to be used. The higher-tier skills will have to be removed before the lower-tier skill can.
Multi Skill Builds
Edit
On the PC, Playstation 4, and XBOX ONE versions, players can unlock additional skill sets to use, allowing them to switch between multiple builds without having to re-spec skill points. This allows, for example, one to switch from a stealth build to a combat build in an instant. Skill sets can be selected and unlocked by pressing the S key.
Skill sets also have a perk deck selection associated, hence switching skill set will switch perk deck as well, although perk deck progress is universal across skill sets.
The skill set used is selected from the skill screen, meaning that it can be selected from the main menu or while in the lobby screen of a Crime.net server.
On consoles there are 5 possible skillsets available, on the PC there are 15. The requirements for the 15th is the requirement for the 5th on consoles.
The skill sets are unlocked as follows: 1. The starting skill set, available from the outset. 2. Available for unlock once you reach level 50. 3. Available for purchase once you reach level 75, costs $1M of offshore money. 4. Available for purchase once you reach level 100, costs $10M of offshore money. 5-9. Available for purchase once you reach level 100, costs $25M of offshore money. 10-14. Available for purchase once you reach level 100, costs $30M of offshore money. 15. Available for purchase once you reach level 100, requires the Tabula Rasa achievement, and costs $20M of offshore money. When resetting your level by going infamous, the skill sets unlocked remain unlocked and therefore can be used immediately afterwards.
Class building is made easier through the use of Profiles, which are collections of loadouts (weapons, throwables, skill sets, perk decks and masks). Profiles can be swapped around in the pre-game menu, allowing players more room to plan out by having multiple loadouts to tackle any kind of situation, especially when playing multi-day heists where rule changes between days are often significant. Because profiled skill sets can not be modified during the pre-game phase, setting them up in advance is often required.
Blank profiles will default to skill set 1 when selected with all skill points unallocated. There are 15 profile slots available at the moment. Profiles can be renamed (if using keyboard and mouse) by clicking on their name in the inventory.
Mastermind
Edit
All skills from the Mastermind tree.

Combat Medic
Mastermind: Medic
Tier 1
Basic (1 pt): You gain a

30%

damage reduction for

5

seconds both after and during reviving another player.
Ace (3 pt): Reviving a crew member gives them

30%

more health.
Mechanics
Edit
If a team member without this skill manages to revive an incapacitated player, the incapacitated player will become fully functional and will have his current health set to 40% of its total value. If the downed player was revived by someone with this skill aced, his health will be set to 52% instead. This value is fixed and does not depend on number of times incapacitated, nature of incapacitation (bullet wounds, fall damage, cloaker kick), time left in bleedout mode or bleedout state (still being able to shoot or not). On Mayhem difficulty and above, the base amount of recovered health (without this skill) is 10% instead of 40%. This skill increases this value to 13% of a player's total health. [1]
The basic version of this skill offers a limited and situational bonus. However, the exact nature of the situation in which this skill would be used makes it potentially the difference between life and death: if everything hinges on one player reviving the other, he may need all the help he can get to stay alive after that. The aced version also helps mostly in tight spots when it's difficult to avoid damage and let armor regenerate. This bonus to health may seem insignificant, but in tight situations it can make the difference between success and failure of a heist.
However, effective use of points allocated in this skill requires a group to have a dedicated reviver, which can be next to impossible in an out-of-control situation. Normally, a downed player will be revived by whichever player is closest, or otherwise able to at that moment. This significantly lowers the general value of Combat Medic, with one notable exception: Masterminds with the Inspire skill Aced will likely do most of the reviving anyway, which significantly increases the value of Combat Medic. Thus, Combat Medic becomes a useful skill for players who also take Inspire Ace.
On Mayhem and above, this skill becomes significantly less useful. The additional 3% health granted by having this skill aced is meaningless. Not considering armor, most law enforcers will be able to instantly deplete a player's health in only one or two shots regardless of whether health is at 10% or 13%. For players with Berserker, this skill actually becomes a hindrance. Players with Berserker aced will receive a 60% ranged damage buff and 150% melee/saw damage buff while at 10% health, but will receive only a 48% ranged and 120% melee/saw damage buff while at 13% health.
References
Edit

Quick Fix
Mastermind: Medic
Tier 2
Basic (2 pt): Decreases your first aid kit and doctor bag deploy time by

50%

.
Ace (4 pt): Crew members that use your first aid kits or doctor bags take

10%

less damage for

120

seconds.
Mechanics
Edit
The basic effect of Quick Fix speeds up the (already rapid) deployment of First Aid Kits and Doctor bags by 50%.
Acing the skill grants 15% damage resistance to crew members who used the player's kit or bag for 120 seconds.
Not much can be said about the basic effect of Quick Fix, as while it is indeed useful, deployment on its own is already deployed quickly enough to be reliable during an emergency. One should aim for the Ace version of it if they were to purchase this skill at all, as the 15% damage resistance conferred can help a teammate stay up and alive for a lot longer when caught in a sticky situation, greatly extending the longevity of restored health.
In general usage, a Quick Fix is an instant form of remedy that can be used quickly for immediate effect on an affliction, similar to how the rapidly-consumed First Aid Kits "fixing" the player's "low health problem".

Painkillers
Mastermind: Medic
Tier 2
Basic (2 pt): Crew members you revive take

30%

less damage for

5

seconds.
Ace (4 pt): The damage reduction is increased by an additional

50%

.
Mechanics
Edit
The mechanics of this is straightforward. The player who has been revived by a Mastermind with this skill will take less damage for 5 seconds after revival. Acing this skill will allow the revived player to take only 20% of the incoming damage.
Even with its significant damage reduction, its 5-second effects might not appear useful. However, during gunfights where the downed player is surrounded by many law enforcers, this skill allows the downed player to have a better chance of survival and escape from the area once revived. This skill can pair well with Inspire in certain situations. Because Inspire allows players to revive others through walls, floors, or other obstacles, the reviving player may not always be able to provide any assistance to the player being revived in dealing with nearby law enforcers. This skill provides a significant boost to downed players so that they can more effectively deal with whatever law enforcers might have downed them in the first place.
Painkillers replaced Fast Learner in Update #39, which was then merged with the Perk Decks.
Painkillers is one of the several pre-Update #100 skills to be unchanged in the update beyond name changes, tier, skill point, and skill tree changes, and slight mechanic changes.

Skills
Mastermind: Medic
Tier 3
Basic (3 pt): Adds

7

more first aid kits to your inventory.
Ace (6 pt): Adds

3

more first aid kits to your inventory. Your deployed first aid kits will be automatically used if a player would go down within a

5

meter radius of the first aid kit.
Mechanics
Edit
The basic mechanics are straightforward, the skill adds additional First Aid Kits that you can use.
The benefits from the basic and aced versions of this skill stack to give a maximum of 14 first aid kits and allow teammates to refill their health when it is depleted if they are near one.
NOTE: Does NOT work with Swan Song, as the moment you hit Zero HP, The FAK activates and restores you back to full HP. Once Swan Song is Active, to quote Fist of the North Star, you are already dead (Downed) so the FAK does not revive you.
The player has to choose if they want to take along First Aid Kits or a Doctor bag. It's very inefficient, even with Jack Of All Trades to focus on both, so it's either this skill or Combat Doctor.
If going for FAKs, it is highly recommended for players to ace this skill, especially if they are a player's only (or primary) deployable. Although first aid kits do not reset bleedout counters (upon use), acing the skill triples the original carry amount, allowing players to use them with less care (i.e. not waiting until extremely low health before healing).
When aced, it is very useful to set multiple first aid kits down in highly damaging areas to prevent your teammates from being downed away from the team in a dangerous situation to be revived. Some areas of this concern would be hauling heavy loot across sections where snipers can shoot at fellow heisters or when needing to interact with a jammed saw/drill in the heat of a firefight.
Also, teammates revived by FAKs aced effect will not infract a down, allowing them to reach 0HP more often before going into custody. Finally, Uppers can be a lifesaver if Inspire is in cooldown or needs to be conserved.
The only "disadvantage" of having the aced skill of Uppers is it will always provide full health for a Berserker orientated player who has his health fully depleted (unless Frenzy is obtained).
The name uppers may be referring to one definition of the word upper, which refers to stimulants such as amphetamines that increase energy.
If teammates are revived from your first aid kits, the down counter is not applied, as they were not in the downed state to begin with.

Combat Doctor
Mastermind: Medic
Tier 3
Basic (3 pt): You can now deploy

2

Doctor Bags instead of just one.
Ace (6 pt): Your doctor bags have

2

more charges.
Mechanics
Edit
This skill doubles the number of doctor bags that a player can carry, and then adds two more charges to each bag. With this skill aced, a mastermind can attain 2 doctor bags with 4 charges each, for a grand total of 8 charges.
The player has to choose if they want to take along First Aid Kits or a Doctor bag. It's very inefficient, even with Jack Of All Trades to focus on both, so it's either this skill or Uppers.
If going for Doctor bags its highly recommended for players to ace this skill, especially if they are a player's only (or primary) deployable. One mastermind with this skill aced can bring an equivalent amount of healing as a full team of players bringing non-upgraded medic bags. Because using medic bags resets the number of times a player can enter bleedout mode before entering custody, the medic bags should be used with care, even with the additional charges. The increased amount of potential down-resets is extremely useful on higher difficulty levels, especially Death Wish.
The icon for this skill is identical to the Extra Lead icon, but with Doctor Bag symbols in place of the Ammo Bag symbols.
Combat Medic is one of the several pre-Update #100 skills to be unchanged in the update beyond name changes, tier, skill point, and skill tree changes, and slight mechanic changes.

Inspire
Mastermind: Medic
Tier 4
Basic (4 pt): You revive crew members

100%

faster. Shouting at your teammates will increase their movement and reload speed by

20%

for

10

seconds.
Ace (8 pt): There is a

100%

chance that you can revive crew members at a distance of up to

9

meters by shouting at them. This cannot occur more than once every

20

seconds.
Mechanics
Edit
Inspire's long range effects (both basic and aced) have a range of 9 meters. Inspire basic's speed boosting effect has a 3.5 second cooldown before it can be used again. In addition to increasing movement speed, it has the effect of increasing reload speed by 20%. [1]
The shout range (both speed boosting and revival) is unaffected by the shout distance increase provided by the Crew Chief Perk Deck.
Inspire, when aced, is one of the most beneficial skills in the entire Mastermind tree, if not the entire game. In addition to enabling players to revive teammates from a distance, this skill allows players to revive others through solid objects, including walls and floors, if the distance is sufficiently small.
Furthermore, when a player shouts at a downed teammate, the target player will be revived instantly, without the standard 6-second (3 with Inspire basic) interaction timer. Inspire can work with, or without the presence of additional teammates around the downed heister: if the player with this skill is fast enough, or has good "aim", they can shout the player in bleedout back up before the other crewmates have to do the revive for them.
Because the long-distance revival has a 20 second cooldown after being used, it is recommended to only be used on players close to being taken into custody or if you yourself are too close to being downed.
It is also worth to note that this skill combined with Messiah can prove very useful if the rest of the crew is down and you are able to revive yourself while downed, as you would then be able to quickly revive the rest of your crew and effectively save the day. Swan Song is also another skill paired with Inspire, as the player can revive one player and either quickly revive another or defend them to safety before going down.
Inspire also has its use in Mayhem and above reviving a fellow teammate then giving another shout to boost their movement speed to get out of a "sticky situation". On lower difficulties, Combat Medic Aced paired with Inspire works well, since a shout-revived player will have a little bit over half his health, more than enough to get out of a sticky situation. Since the boost this gives is fairly marginal on Mayhem and above however, it's not a good option to Ace, especially with other skill choices.
While effective and handy to have at all times, one must be careful not to get shot down in a firefight if they are the only person with the skill in a team. If a downed player has been surrounded by multiple and/or powerful enemies, especially on higher difficulties, it may be necessary to prioritize killing enemies before reviving them; otherwise they may simply be downed again or brought into custody in a short matter of time.
The speed boost and revive shouts do not work during stealth because players can only shout if stealth has been broken. Inspire's only use in stealth is the halved interaction time.
The speed boost will also increase the reload speed. This synergizes well with weapons that have notoriously lengthy reload times, such as LMGs.
Inspire is one of the several pre-Update #100 skills to be unchanged in the update beyond name changes, tier, skill point, and skill tree changes, and slight mechanic changes.
The Medic unit introduced in the Hoxton Housewarming Party uses a similar ability with an identical animation, although rather than reviving downed law enforcers they provide an instant heal instead.
The Henchman Beta and eventual live release has given an option to equip a longer-cooldown version of this skill on bots.
References
Edit

Skills
Mastermind: Controller
Tier 1
Basic (1 pt): Increases your supply of cable ties by

4

. You can cable tie hostages

75%

faster.
Ace (3 pt): You and your crew gain

0.5

damage absorption for each hostage you have. This effect stacks with up to a maximum of

8

hostages. Note: This skill does not stack with other players Forced Friendship skills.
Mechanics
Edit
It's fairly straightforward: you gain 4 extra cable ties and it takes 1/4 of the time in normally would to take hostages for the basic version and for every hostage you have .5 damage absorption, up to 4 damage absorption for the aced version.
While the recent addition of collecting cable ties from ammo bags might make this skill sound less useful in loud situations, the 4 extra cable ties, plus the faster tying speed, will allow a player to tie up enough civilians in order to delay the first assault wave. Additionally, if you collect enough hostages with your crew and have the aced version of this skill you will be better prepared for that first assault.
Patch #107 moved the Civilians remain intimidated 50% longer part of Stockholm Syndrome to this skill. As can be seen here:
https://www.bitbucket.org/YaPh1l/payday-2-lua/commits/00e14c0a14b7076e0256ef692bd7f7abaee0925f#chg-lib/tweak_data/skilltreetweakdata.lua

Confident
Mastermind: Controller
Tier 2
Basic (2 pt): The power and range of your intimidation is increased by

50%

.
Ace (4 pt): You can now have

2

converted enemies at the same time.
Mechanics
Edit
The basic version of this skill increases your intimidation (shouting) range by 50%.
The aced version allows you to convert 2 dominated law enforcers. In order to use this you are required to use Joker Basic, otherwise it has no effect at all.
Its basic effect of allowing you to shout further also has uses in marking (which uses shout distance) or telling civilians to lay down. It can not be used to increase Inspire range.
Do not bother purchasing the Aced version of this skill if not possessing Joker yet, it will do nothing. If Joker is also owned however, this allows you to utilise more hostage guards as additional damage dealer, provided other skills are also purchased preventing them to meet their untimely demise early on.
There is no increase in power from the Basic skill, despite being claimed so by the text.

Skills
Mastermind: Controller
Tier 2
Basic (2 pt): You can convert a non-special enemy to fight on your side. This cannot be done during stealth and the enemy must have surrendered in order for you to convert them. You can only convert one non-special enemy at a time.
Ace (4 pt): Your converted enemy deal

35%

more damage. The time taken to convert an enemy is reduced by

65%

.(

sic

)
Mechanics
Edit
"Damn you for doing this!"
—A law enforcer being converted.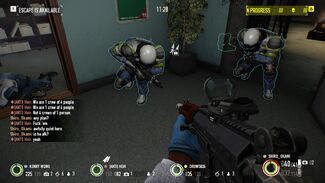 First, a law enforcer must be intimidated (See the
Shout
page for useful information on securing hostages); gang members and specials are immune to domination, and therefore also immune to this skill. After the law enforcer has cuffed himself, any player with this skill may interact with him to do a conversion. Each player with this skill may only have
one
converted unit under their command at a time, which can be expanded to
2
by purchasing
Confident
Aced. Upon conversion, a law enforcer's health is restored as well as having their damage increased if this skill is Aced.
Law enforcers affected by Joker will behave similarly to the AI allies, with the notable exception of them being incapable of reviving downed players or regenerate lost health when not taking damage. Being caught within the radius of player-based explosives such as grenade launcher shots, fire or Frag Grenades will injure them regardless. Like AI allies, they have a blue outline to show that they are friendly to the players. Converts will be affected by ECM Feedback if utilized in their presence.
If a teammate is in custody and there are no tied civilians or dominated law enforcers available to trade, a converted enemy will revert to being dominated and provide an instant hostage.
Players with this skill should attempt to dominate the toughest or strongest law enforcement available. Since specials cannot be dominated, the most ideal target is a Maximum Force Responder, as their frontal body armor is completely resistant to standard bullets, and they have very high health. Heavy Response Units are also quite viable thanks to their high damage output (especially if they have a shotgun) but will generally not last nearly as long as a Maximum Force Responder. When playing on Mayhem or Death Wish, converting GenSec SWAT members can also be a wise choice thanks to their powerful arsenal of weapons. When playing Meltdown, Slaughterhouse, or Beneath the Mountain, Murkywater PMCs are also a good choice due to their high-damage Eagle Heavies. On One Down, every Zeal Team Member makes a very useful ally.
On indoor heists, enemies with shotguns should be converted, while on outdoor heists, enemies with SMGs or Assault Rifles should be converted. When converting a Security Guard, the SMG armed variant is the best choice as it deals more damage then the pistol used by the others. If a street cop is converted, the Bronco armed cop is a very good choice thanks to his very high damage compared to the pistol armed cop, but the SMG and Shotgun are also ideal targets. A Yellow SWAT on normal can be very advantageous as they are very durable.
A converted law enforcer is very useful against Cloakers as they can take them out without risking getting kicked and incapacitated. This also allows your teammates to revive you from a Cloaker's kick without the danger of getting kicked themselves. The same tactic is useful against Tasers.
Hostage Taker can be paired well with Joker to provide constant health regeneration. Unlike tied down civilian hostages who must be guarded to prevent rescue, the converted law enforcement units can defend themselves and make it harder for them to be eliminated.
Bring Your Cop To Work Day
On any heist, have four law enforcers converted at the same time on the OVERKILL difficulty or above.
A joker is a wild card, or an unexpected factor that changes or reverses a situation.

The name could also be a reference to The Dark Knight, as the main villain (The Joker) frequently recruited new "clowns" from his former enemies, most notably Harvey Dent/Two-Face, the former district attorney of Gotham.

In the first few versions of this skill, the converted unit was forced to wear a bomb; the player told them that either they would serve the heisters or they would explode. This has since been removed due to fear of negative reviews. The old sounds still play on at least the FBI and MFR units.
A converted law enforcer still has the ability to climb or dive/roll away from enemy (or friendly) fire.
In more recent versions of the game, converted law enforcers will spring up battle-ready, while in earlier builds they had to go through a standing up animation, draw their weapons and only after a roughly 2-second delay, could they join the fight.

The very first convert will still lack its weapon before firing, although all subsequent converts work properly.

A converted law enforcer will never use his melee attack against his former comrades, nor will he be attacked in melee range.
Converted law enforcers will still use their standard battle quotes.
If the player tries to convert a dominated enemy while in stealth or already has it's limit of converted enemies a message will show up that reads: "Your persuasion techniques were resisted."
As with AI bots, players can walk through converted law enforcers. Likewise, they will eat the players bullets.
The AI of converted law enforcers seems to be bugged as they will sometimes hold a certain position and fight off enemies until they die.
Converted law enforcers seems to have faster reflexes and better aim as they will often shoot enemies before they can react and almost always score headshots, similiar to AI bots.