Some Slavic Goodness This Way Comes!!
Edit
---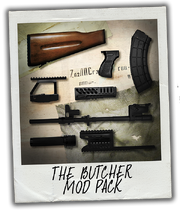 Slowly we trudged, and the third milestone of Hype Train had been reached as of midnight of the 17th of February. From what could be seen as a new pack of mods for AK-pattern weapons, this would mark the first ever modifications pack from the Butcher (where's Gage now?).
That said, we've only about 3 weeks left until the conclusion of the event to make a difference and things are not looking too good (for Overkill first and our wallets second).
As always, check the event site regularly and remember to contribute.
Event site: www.overkillsoftware.com/thehypetrain/
Ad blocker interference detected!
Wikia is a free-to-use site that makes money from advertising. We have a modified experience for viewers using ad blockers

Wikia is not accessible if you've made further modifications. Remove the custom ad blocker rule(s) and the page will load as expected.