Home
Talk

16
863pages on
this wiki
Welcome
to the

We are currently shooting and looting over 863 articles, and you can assist us in this heist of the century!
About this wiki • New pages • New files • Active users
Categories • Wiki tutorial (Central wikia) • Help pages • Administrators
Featured Article: Sentry Gun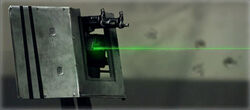 "Based on internet blueprints, the sentry gun is a criminal's best friend. Two guns connected to a computer automatically aim and fire at any target detected by its sensors. Being the bad guy has never felt more alien."
—In-game description.
The Sentry Gun is an autonomous portable defensive turret featured in PAYDAY: The Heist. It is acquired as part of the Wolf Pack DLC.
---
For more information, see Sentry gun.
About Us
It's Time For A PAYDAY!
Welcome to the Payday Wiki!
If you have been playing PAYDAY: The Heist or PAYDAY 2 and have any questions, then this is the right place for you. We have a wide library of information pertaining both games and the Web Series by GameSpot.
If you need any assistance as you edit here, please contact our admins Shidou, GFreeman, Kattusite or Jemjar, but at the same time do not be afraid to use the live chat function to discuss your ideas with other editors; we are online and always listening.
What's Hot and What's Not
Overkill have released a new beta including a host of tweaks, most notably a new experience system! If you've ever felt that Payday: The Heist had a better experience system, or that Payday 2 doesn't do enough to encourage stealing all the loot, then this might be just what you've been waiting for.

Note that as a beta patch, you'll have to specifically opt in to the changes if you want to try out the new features - if you prefer speedrunning Rats, stay away. Check out the official announcement here!
Things We Need To Do
As always, we might need some assistance with collecting and posting information related to recent releases :
The new flame mechanics and incendiary weapons
Hoxton Revenge details and variations
The exact effects of the OVE9000 saw mods
Any updates regarding the secret rewards from the Completely Overkill DLC
That should probably cover pretty much what should be done for the time being. Other than that, if you would like to help us with certain tasks, check out our to-do list.
When creating a build, do you go for Dodge or Heavy armor?
If Overkill were to remake one of the classic maps from PAYDAY: The Heist, which map would you want them to?
News
Have You A Life To Live??
---
'Nuff said, really
For more information, check out this release site
Official links
Official Twitter
---
Helping Out
To write a new article, just enter the title in the box below.
Not sure where to start?

Find out more about the wiki on the About page.
If you are new to wikis and in need of an edit-specific help, check out the tutorial and editing help page.
Questions? If you have questions you can post them at our community center, the Main Page discussion.

Adding content

Talk and more...