PAYDAY: The Heist
Comments

71
797pages on
this wiki
PAYDAY: The Heist is a first-person shooter developed by Overkill Software and published by Sony Online Entertainment. It was originally set to be released on October 4, 2011, but due to development issues, it was pushed back to October 18. The game was released in North America on that date via the PlayStation Network, and on November 2, 2011, in Europe. It was released worldwide for PC on October 21, 2011, via Steam. 
PAYDAY: The Heist features dynamic environments and enemy spawns. Teamwork is the key to this game, as players will have to work together and assume different roles. Players can play online, alongside up to three teammates; or offline, with or without AI-controlled teammates. While players go by their screen names online, the player characters do have names: Dallas, Hoxton, Wolf, and Chains.
The game's successor, PAYDAY 2, has been released on 13th August, 2013.
The game was made available as a free download for one day during the CrimeFest 3 year anniversary event on October 16, 2014.
In each heist, players are required to complete objectives, usually in an effort to steal cash or valuables. The police will attempt to stop them, but players are expected to fight through them with firearms, except in the case of Diamond Heist, where players can slip past guards unnoticed and acquire diamonds to complete the mission.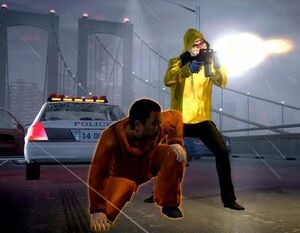 A VIP is a character who must be escorted to a particular location.
All VIPs are highlighted in orange when it is time to escort them, much like other mission objectives. They will get down and refuse to move if a law enforcer is nearby and within their field of view. For this reason, it can be difficult escorting them during assault waves especially when the VIP is near an enemy spawn. For the player's benefit, all VIPs are invincible so they cannot be harmed by the police or the players, although their profile is still too small to act as good cover. All VIPs will also never attempt to escape even when no crew members are present, or when they are surrounded by police.
When not moving, the VIP will crouch, wasting several more seconds, as he must get up again before continuing to move.
Reception
Edit
The game have received mixed to positive reviews. Aggregating review websites of Gamerankings and Metacritic given the PC version 76.67% and 76/100 [1] [2] and the Playstation 3 version 70.61% and 70/100 [3] [4]
Both Gamespot and IGN have given PAYDAY: The Heist the score of 7.5/10 [5] [6]
Despite the the mixed reviews, the game have sold over 700,000 copies, making it a financial success. [7] [8]
Soundtrack
Edit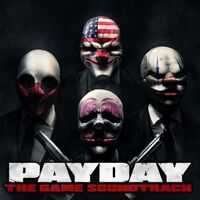 The soundtrack was composed by Simon Viklund and released on October 18, 2012. It is available for purchase on Steam and on Bandcamp for US$5. In-game Soundtrack masks are included with the Steam purchase.
Track listing
Edit
Breaking News – 2:04
Gun Metal Grey (theme from First World Bank) – 4:18
Double Cross (theme from Heat Street) – 3:35
Home Invasion (theme from Counterfeit) – 3:36
Busted (heist failed) – 3:07
Stone Cold (theme from Green Bridge) – 5:00
Three Way Deal (theme from Undercover) – 4:12
Phoney Money (theme from Panic Room part 1) – 2:28
The Take (theme from Panic Room part 2) – 3:47
See You at the Safe House (heist successful) – 2:15
Code Silver (theme from No Mercy) – 4:49
Crime Wave (theme from Slaughterhouse) – 3:22
Breach of Security (theme from Diamond Heist) – 4:09
Criminal Intent (theme from the main menu) – 3:15
Preparations (theme from the load-out menu) – 2:51
I Will Give You My All – 2:56
Shawn Davis and band – Payday for You and Me – 2:49
References
Edit
External links
Edit