JP36

Medium damage and low spread
Unlocked at rep
16
Equipment slot
Primary
Price
N/A
Type
Fully automatic
Clip size
30
Total ammo
180
Damage
25
Accuracy
12
Stability
19
Concealment
19
Threat
13
The JP36 assault rifle is a primary weapon in PAYDAY 2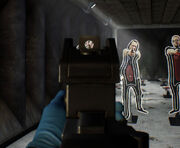 Originally a low-power, low-recoil weapon, the JP36 received a hefty boost to damage and recoil in update #11. It is a well-rounded primary with good damage and excellent ammo reserve. Its main weakness is the relatively small pool of attachments available for it.
The high total ammo allows the JP36 to fill a supportive role in a 4 player team and makes an excellent choice for keeping enemies suppressed. With attachments such as a sniper stock and clear sights the weapon has very high stability and as such can be used even at far ranges, making it even more effective as a support gun.
The JP36 also is a useful back-up weapon in stealth loadouts, as the plentiful ammo and modifications that provide high concealment (specifically the Compact Foregrip and the Solid stock) and power (Tank) can prove useful when the team needs to go loud and the player has a stealth load-out. It can easily replace the player's possibly weak secondary and keep their visibility at a significant low during the stealth portion. 
Available modifications
Edit
Barrel ext.
Edit
Stubby
The Tank
Fire Breather
The Bigger The Better
Military Red Dot (Lootbag DLC)
Holographic Sight
The Professional's Choice
Surgeon Sight
Military Red Dot
Milspec Sight
See More Sight
The JP36 based on the G36C. With mods, it can instead resemble the G36KV.