| | This article is about the returning heister from PAYDAY: The Heist. For Dallas' younger brother, who temporarily held the mantle while Hoxton was in jail, see Houston. |
| --- | --- |
Hoxton

Career information
Role
Sharpshooter
– (PAYDAY: The Heist)
Signature weapons
Ranged
Predator 12G
Melee
Nova's Shank
Biographical information
Also known as
James Hoxworth
Nationality
English
Language(s)
English
Age
30 - (PAYDAY: The Heist)
32 - (PAYDAY 2)
Physical description
Hair color
Black - (PAYDAY: The Heist)
Brown - (PAYDAY 2)
Eye color
Hazel
Height
5' 11''
Build
Thin
Features
Facial burns
Ethnicity
Caucasian
Other
Appearance(s)
PAYDAY: The Heist
PAYDAY 2
Portrayed by
Richard Blom:
– (PAYDAY: The Heist)

Josh Lenn:
– (PAYDAY 2)

Voiced by
Pete Gold
Quotes
Quotation page
Internal name
american (PAYDAY: The Heist)
old_hoxton (PAYDAY 2)

v

·

d

·

e
FBI Description
FBI Files: "Hoxton" was recently incarcerated at Hazelton Prison, but was freed by the Payday gang while he was being taken to a parole hearing. We are sure he will be very difficult to apprehend again.
"It's Payday fellas!"
—Hoxton in the Hoxton Breakout trailer.
Hoxton is the codename used by James Hoxworth, the Fugitive (formerly Sharpshooter) from Sheffield, South Yorkshire, England. He has two brothers, possibly more. He wears a pink and white Clown mask, and is voiced by Pete Gold.
Hoxton was arrested by the FBI sometime between the first and second games, and was briefly replaced by Dallas' younger brother, a 31-year-old American portrayed by Derek Ray, who took up the codename and the mask. In 2014, the Englishman was rescued by his former crewmates in the Hoxton Breakout heist. At this point, he regained his nickname and once again became a playable character. The replacement Hoxton took up the alternate moniker Houston but kept Hoxton's original mask.
A heist where Hoxton and the gang track down the rat responsible for his imprisonment was released March 21, during the Spring Break Event.
Background
Edit
Hoxton has fought with his brothers, bullies, rival football supporters, and opponents in unlicensed boxing matches. He has never been able to hold a job for long, as he believes jobs should come few and far between and pay greatly. Hoxton swindled many people as his debt grew, which made many angry with him. He would intimidate people to keep loan sharks away and would often work for them to pay off his debt. He was eventually caught with his gang in Hoxton, London, which gave him his nickname. His first felony was a liquor store robbery at age 19.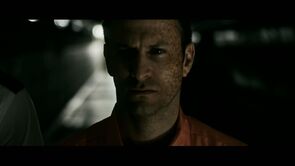 In 2011, between the setting of the first and second game, the original Hoxton was arrested by the Federal Bureau of Intervention due to DNA found at First World Bank and incarcerated at the same high security prison and the same cell block as their previous driver, Matt (see Heat Street for info). Hoxton regularly beats up Matt, which Hoxton sees as "karma" for double-crossing them.
By PAYDAY 2, Hoxton has heard about the new heister who has taken up his mantle, and expressed his displeasure about being "replaced". [1] His lawyer explained that it is impossible to bail him out of prison, due to the amount of overwhelming evidence against him obtained from the previous heists in the previous game, along with his continued attacks on Matt Roscoe in prison. Coming to the realization that the only way to get out of prison is to be broken out, Hoxton decided the best course of action was to contact Bain for assistance.
Prior to the BreakoutEdit
The Election Day heist page states that the heist was supposed to be done as part of the plan to break him out by getting The Elephant to transfer Hoxton into a lower security prison.
In the Dentist trailer of Update #29.2, a plan to break him out of prison was revealed, along with his possible name of Jim Hoxworth. According to The Dentist's dialogue in the trailer, Hoxton was probably left behind in a job gone sour which led to his arrest.
In Almir Listo ALS Ice Bucket Challenge here, one can see a 5th person wearing a slightly modified Hoxton mask. This person is assumed to be Old Hoxton, as in the Old Hoxton Breakout Trailer, he puts on a mask that matches the one in Almir's ALS Ice Bucket Challenge.
On September 30 2014, OVERKILL, in collaboration with Dennaton Games, released the Hotline Miami DLC, in which the gang applies pressure to Washington D.C.'s corrupt district attorney for The Dentist by assassinating one of his connections to the underworld, a Russian mobster known as The Commissar. In doing so they come one step closer to freeing Hoxton.
The Great EscapeEdit
"Did you miss me, you wankers?"
—Hoxton reuniting with his former crew.
Released on October 27th, 2014, the Hoxton Breakout heist sees the return of the Englishman as the crew intercepts a prison guard escort and freeing their former accomplice. Protected by his friends, Hoxton escapes the police-infested streets of Washington D.C.
Looking back on the capture, Hoxton revealed that he was not set up by Roscoe, but someone else, someone with an intimate and thorough knowledge of his background. Breaking into an FBI headquarters, he and his old crew resolves to find out who this treacherous individual is and plans his revenge.
Confrontation with the Treacherous RatEdit
Prior to discovering the traitor's identity, he was contacted by Bonnie whom he has met before. Bonnie was recently released from prison and claims that she has bits of information on the rat which she will give in exchange for her membership to the Payday gang. Hoxton, desperate to find this rat, accepts Bonnie into the gang and assures the crew on her intentions.
While he couldn't identify the Rat, he however managed to discover his hiding spot; a fancy house under heavy protection of the FBI. Hoxton finally extracted his revenge upon the Rat during the events of Hoxton's Revenge. However, the crew was shocked upon learning the Rat's identity...
Behind The Scenes
Edit
Originally, the new character Houston (previously Hoxton) was created as a complete replacement for Hoxton, as Pete Gold wasn't able to reprise his role at the time of PAYDAY 2's production due to scheduling conflicts. Derek Ray was cast as Hoxton in the PAYDAY Web Series before portraying the character in-game as well.
Due to the overwhelming demands from the PAYDAY Community to bring the old heister back, Overkill Software have published the backstory of Hoxton's arrest that leads up to the release of the Hoxton Breakout heist and re-introduction of the former Hoxton. Pete Gold has also returned to provide the voice of his original character and the new name, Houston, was given to the new character as to avoid confusions. Hoxton's original face model Richard Blom, however, does not reprise his role in PAYDAY 2.
He's Got Experience
Complete the Prison Nightmare job on the Hard difficulty or above by having 1 player playing as Hoxton, all having Nova's Shank melee weapon equipped, and are only allowed to kill enemies using Nova's Shank. You have to have played the heist from start to end. Unlocks the "Risen Houston" mask.
PAYDAY: The Heist
Edit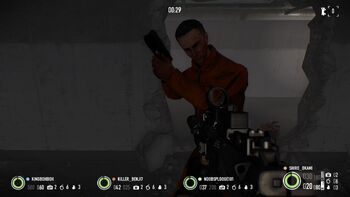 References
Edit
Ad blocker interference detected!
Wikia is a free-to-use site that makes money from advertising. We have a modified experience for viewers using ad blockers

Wikia is not accessible if you've made further modifications. Remove the custom ad blocker rule(s) and the page will load as expected.