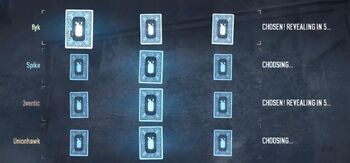 In PAYDAY 2, after a successful heist, the player has an opportunity to pick one of three cards on the screen. There are several types of cards, each serves a different purpose. All players must select a card in order to proceed back to the lobby screen. Failure to choose a card will result in the game starting a 30-second timer after a short amount of time, at the end of which a random card will be chosen for the player automatically.  
The Offshore Payday (accessible from the Crime.net map) allows players to receive cards without having to complete heists by betting
Offshore money
. The cost of betting varies depending on the card type, the number of cards out of the three that are guaranteed to be the selected card type ("safe cards"), and the chance of getting an infamous card, all of which are customization options the player can set before placing their bet.
Mask component cards add either a mask, material, pattern, or color to your inventory. Each component type has its respective card and any of them may yield an infamous-quality item.
Cash bonus cards provide between $20,000 and $100,000.
Experience cards give you additional experience.
Weapon mod cards add a weapon mod to your inventory; see below for details.

Boost Cards will yield random stat-boosting upgrades that can be equipped on select weapon(s).

Safe Cards provide a random, non-retired and non-achievement safe.
Drill Cards give you a random, non-retired and non-achievement drill.
Note: Weapon mod cards will only yield a certain attachment if the player has less than two of that mod in their inventory (i.e., not mounted on a weapon). A particular attachment will not drop from cards if one already has two copies of it in their possession (i.e. one having two unused See More Sights will not get a third one from drops), therefore if one has two of every weapon mod, no mod cards will appear.
Obviously, experience cards cease once Level 100 is reached.
"Farming" card drops refers to repeatedly completing a quick heist in order to get many card drops over a short period of time. These heists are typically done at normal difficulty, since card drops do not vary by difficulty. Card farming yields minimal XP because the repeated-mission penalty reaches -30% after several runs.
Popular heists for this include:
A good way to sidestep the XP reduction is to farm all of the above heists in long cycles. As the number of heists increases, so does the total number of times one can pick a card.
Ad blocker interference detected!
Wikia is a free-to-use site that makes money from advertising. We have a modified experience for viewers using ad blockers

Wikia is not accessible if you've made further modifications. Remove the custom ad blocker rule(s) and the page will load as expected.