The CMP submachine gun is a secondary weapon available in PAYDAY 2.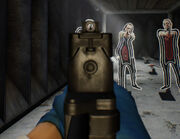 The CMP has the fastest reload time of any SMG (very nearly the same speed as a pistol), a high fire rate, and good total ammo. The downside to the high fire rate, though, is the unpredictable recoil it shares with the Mark 10. It will often recoil to the sides and downwards. This can make it difficult to use for someone who's not used to this unpredictability.
All these things, combined with the slightly obstructive iron sight, make the CMP strictly a close-range weapon. With certain attachments, you can reduce the recoil to allow it to perform better at medium-range situations. A skilled user can absolutely devastate groups of weak enemies when the time is right. With the necessary attachments, the CMP becomes a good all-around weapon for any heist, having the high RoF of the Mark 10, the ammo pool of the Blaster 9mm, damage of the Para, and accuracy of the Kobus 90.
Pros:
Decent damage
Very fast reload even without skills
High rate of fire
Good capacity and ammo reserve
Good stability
Good concealment
Cons:
Average accuracy
Unpredictable recoil
Obstructive default sights
Single Fire
Gage Weapon Pack 01

- Bonus (5), Card Drop & Side Job
| | | | | | |
| --- | --- | --- | --- | --- | --- |
| Mod slot | Custom | Total ammo | | Stability | -5 |
| Cost | $249,200 | Damage | | Concealment | |
| Magazine | | Accuracy | +2 | Threat | |
Auto Fire
Gage Weapon Pack 01

- Bonus (5), Card Drop & Side Job
| | | | | | |
| --- | --- | --- | --- | --- | --- |
| Mod slot | Custom | Total ammo | | Stability | +3 |
| Cost | $429,800 | Damage | +3 | Concealment | |
| Magazine | | Accuracy | -2 | Threat | |
Extended Mag.

Base game

- Card Drop & Side Job | | | | | | |
| --- | --- | --- | --- | --- | --- |
| Mod slot | Magazine | Total ammo | | Stability | |
| Cost | $139,000 | Damage | | Concealment | -2 |
| Magazine | +12 | Accuracy | | Threat | |
Skeletal Stock

Base game

- Card Drop & Side Job | | | | | | |
| --- | --- | --- | --- | --- | --- |
| Mod slot | Stock | Total ammo | | Stability | +3 |
| Cost | $178,000 | Damage | | Concealment | -3 |
| Magazine | | Accuracy | +2 | Threat | |